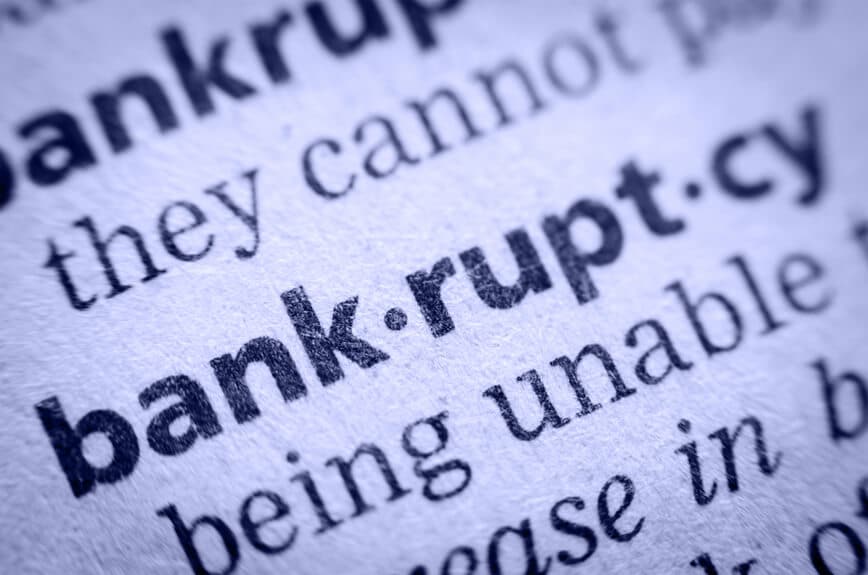 11 May

What is a Chapter 7 Bankruptcy?

Bankruptcy is a sometimes misunderstood term, yet it is a legal process that has been employed by millions of people over the years. If you have become bankrupt recently then you might be interested in getting a lawyer if you are in need of help. You could always check out someone like these durham bankruptcy attorneys, particular if you are now bankrupt through a loss of a job for example. However, the first thing to know is that there are several types of bankruptcy to consider. However, Chapter 7 is probably the best option for most of Florida's families. However, there are several rules within a Chapter 7 bankruptcy to take into consideration. One of the first of these is that the chapter 7 bankruptcy eliminates the debtor's legal obligations to pay the debts that were present when the bankruptcy was filed. The second rule to consider is that the debtor's property can be sold to pay off creditors.

Filing Chapter 7 bankruptcy requires that an individual must meet specific criteria. They must first qualify financially by use of the Means Test. Secondly, they may not have had a bankruptcy dismissed in the last six months. An individual may not file Chapter 7 bankruptcy if they have filed a Chapter 7 in the last eight years or a Chapter 13 in the last six years. Filing bankruptcy isn't necessarily a solve-all situation. There are many situations where it does not make sense.
Chapter 7 Bankruptcy and Debt Elimination
Many individuals assume that filing bankruptcy eliminates all debts. This is not true. While the majority of debts can be eliminated, some debts are non-dischargeable. You may want to contact a tax attorney nj to see if you could get certain taxes discharged. Another situation is where there are debts that the debtor agrees to pay through a new agreement.
In a bankruptcy case, when a debt is eliminated, and the debtor no longer has the obligation to pay it, the debt is referred to as discharged. This means that the debtor has no legal obligation to pay the debt. Now, even though the creditor was unable to collect the money from the debtor, the creditor still can collect the debt by the sale of the property under certain circumstances. In the case of stock trades, the shares of the company or person who has filed for bankruptcy may still trade, so it's worth going to somewhere like Stocktrades for advice on this.
For example, in most circumstances, if a car loan is discharged in a Chapter 7 bankruptcy, the debtor no longer has to pay the loan back. However, the "secured creditor" has the option to repossess the vehicle in order to recoup back some of the money owed. To clarify – if there is property or assets connected to debt, a creditor can and repossess the assets or property involved. To avoid the loss of assets, many individuals will agree to pay the debt through a reaffirmation agreement. This provides them with the opportunity to hold on to their assets.
As mentioned above, there are dischargeable and non-dischargeable debts as identified by Congress. Obligations related to medical, vehicle, credits cards and of other similar categories are able to be discharged in a Chapter 7 bankruptcy. However, there are several categories of debts that are not able to be discharged. The majority of taxes cannot be discharged in bankruptcy. Child support obligations, spousal support obligations as well as obligations related to a divorce are also non-dischargeable. Student loans of all types; public and private are non-dischargeable unless in cases of hardship or disability. Financial obligations that are the result of a drunk driving accident cannot be discharged as part of a bankruptcy. Any debts related to fraud are also non-dischargeable. The court has the capability to deny debtors discharge of debts if a debtor is dishonest about property, property transfers or the Trustee.
Chapter 7 Bankruptcy and Retaining Property
Individuals who file Chapter 7 bankruptcy are able to keep certain kinds of property. Exempt property represents property that the creditor is unable to liquidate even if the debtor hadn't filed bankruptcy. Exemption laws look different in each state and are dependent upon the bankruptcy code in each jurisdiction.
The next type of property in a bankruptcy is encumbered property. This represents property that holds liens or mortgages that do not equal or exceed the value of the property. In other words, the property is not worth the money that is owed on it. The debtor has two options in this situation; keep the property and pay the debts or offer the property back to the creditors who will sell it to pay off the debts.
The third case represents property lacking market value. This can include any possession that is unable to be sold for a significant amount of money. This may include pets, fake jewelry, junk cars or other types of property that the creditors have no interest in taking.
What is the Means Test?
The Means Test was put into place in the year 2005 after Congress came to the determination that individuals capable of paying their debt were filing bankruptcy. The Means Test consists of two different parts. The first of these is an evaluation of the family's gross income within the six months prior to filing bankruptcy. If the results of the first test reveal a total household income that is less than the state median for the family's size, the debtor is given the option of filing a Chapter 7 or Chapter 13 Bankruptcy. Now, if the calculation is higher than the median income, further calculations must be completed. These calculations evaluate the household's expenses to determine if the household has sufficient funds to repay their debt. If there is a significant amount of disposable income, the debtor's options for filing bankruptcy are more limited.
Why not file a Chapter 7 Bankruptcy?
Filing a Chapter 7 Bankruptcy isn't for everyone. One of the primary reasons to avoid a Chapter 7 Bankruptcy is if there is unexempt property that contains equity. If the debtor wants to keep this property, he/she can either pay the chapter 7 trustee the property's market value or pay the value of the property in a bankruptcy plan via a Chapter 13 bankruptcy.
If a large portion of the debtor's financial hardship is due to student loans, Chapter 7 bankruptcy may not be the best option. As mentioned above, student loans, whether private or public, are non-dischargable. It doesn't make sense to file bankruptcy on debts that are unable to be discharged. The better option in these situations is to attempt to renegotiate terms with the loan servicing provider. Debtors with other debts that are non-dischargeable, like taxes, may not be interested in filing a Chapter 7 bankruptcy. As mentioned above, it makes very little sense to endure the hassle of bankruptcy if a large percentage of the debts are non-dischargable.
Many individuals who find themselves in tough financial situations may begin to consider bankruptcy options. In assessing these options, it's very important to evaluate the entire situation as well as the debts that are to be involved in the bankruptcy. Before an individual can qualify for a Chapter 7 bankruptcy the family must undergo the Means Test which evaluates their income versus their debts and their ability to repay their debts. After this test is completed, the debtor is responsible for evaluated the debts. Some debts may be non-dischargeable, meaning that that they must be paid regardless of the bankruptcy. Other debts may be attached to property that the debtor wishes to keep. Both of these situations raise the question as to whether a Chapter 7 bankruptcy is the right decision. Debtors who have significant debt in non-dischargeable debts (student loans, taxes, etc.) should reconsider filing a Chapter 7 bankruptcy. Debtors who have debt on property that they wish to keep should reconsider their decision to file a chapter 7 bankruptcy. There are a lot of different elements that go into filing bankruptcy. This decision should not be made hastily. Bankruptcy is a complex legal proceeding that should only be decided upon as a last resort. Before deciding if Chapter 7 bankruptcy is an option for you, be sure to contact an attorney to aid you through this process.
One of the first things that a family under financial stress can do is contact an attorney that handles bankruptcy for families. They are able to help you determine if bankruptcy is an option for you.